I think my son was switched at birth. Except I know logically that's not possible since there were no other browish babies present at our home birth. But somethin' just does not add up.
Somehow the sweet little human child I expected, has turned into a creature more closely resembling a pterodactyl.
Let me explain.
Nolan (the alleged human 18 month old baby) has a particular way of expressing himself. He uses this technique when his 6 year old brother steals his basketball or when he's insisting we go outside to play lacrosse....in the rain.
It's not so much a polite request, consisting of 'please' or 'thank you'. It's more like a high-pitched shriek, or the mating call of a prehistoric animal.
I never experienced this with my other boys. My oldest was the only child for a long time, but he was very laid back and at all not demanding. My middle son still whimpers like a lost puppy, but it's usually only in the morning when I'm trying to get him up for school.
Nolan on the other hand will scream, over...and over again until SOMEBODY gives him what he wants, or acknowledges what he needs.
I've mentioned this behavior to many of my crunchy momma friends and they all ask me the same question,
"Have you tried using sign language?"
A high school friend of mine once told me that she taught her son to sign (who was about 18 months at the time) so that he could learn to express himself, without throwing a tantrum. I have to admit....I thought she was a wack-a-doo. I mean, she is a loving and attentive mom, but I thought it was kinda weird to teach a child with perfect hearing to sign. I remember thinking, "My kids NEVER threw tantrums at that age."
In the wise words of Justin Bieber, "Never say never".
Turns out my friend was right. A
study
, conducted at Michigan State University concluded that:
·

reduces frustration and aggression in the classroom.

·

allows infants and toddlers to express both emotions (e.g., happy, sad, afraid,mad) and feelings (e.g., sleepy, cold, hurt) both to label their own states and to comment on the states of other children, showing early evidence of empathy.

·

helps teachers be more observant and responsive to children.

·

helps daily routines proceed more smoothly.

·

increases "active" learning.

·

encourages babies as early as 9 months to engage in multi-utterance conversations with teachers.

·

provides a "universal language" that facilitates interactions in multi-lingual classrooms.
So after the 3rd or 4th person said to me I should try signing to Nolan and I got tired of the ringing in my ears, I decided it was worth a shot.
I asked another friend to show me some simple words I could use to help Nolan tell me what he needed. Some of these I knew from watching HOURS of Blues Clues, but here's what I started with:
I don't think there was a better first word for Nolan to learn, since he clearly only yells when he wants something. So the other day he had grapes as a snack. Each time he wanted another he would point to the bag and go "Eh eh eh". I knew that if I didn't respond quick enough those harmless whines would turn into full-fledged pterodactyl cries so I said to him about 3 times, "Say please", and made the motion above.
I could see the wheels turning in his head as he was putting together what I was doing. 30 seconds later he brought both hand to his chest and sweetly said, "Peeees".
Wouldn't you know my kid isn't a related to a flying ancient creature after all!
It was seriously the cutest damn thing I ever saw. We did it over and over. Each time he wanted a grape I would sign please and say it, and then so would he.
At Nolan's age his vocabulary is limited, but he seems to be adding new words all the time. Until them I think this simple arsenal of signs could really help us all.
Once he's mastered these, I'd love to move on to some of these: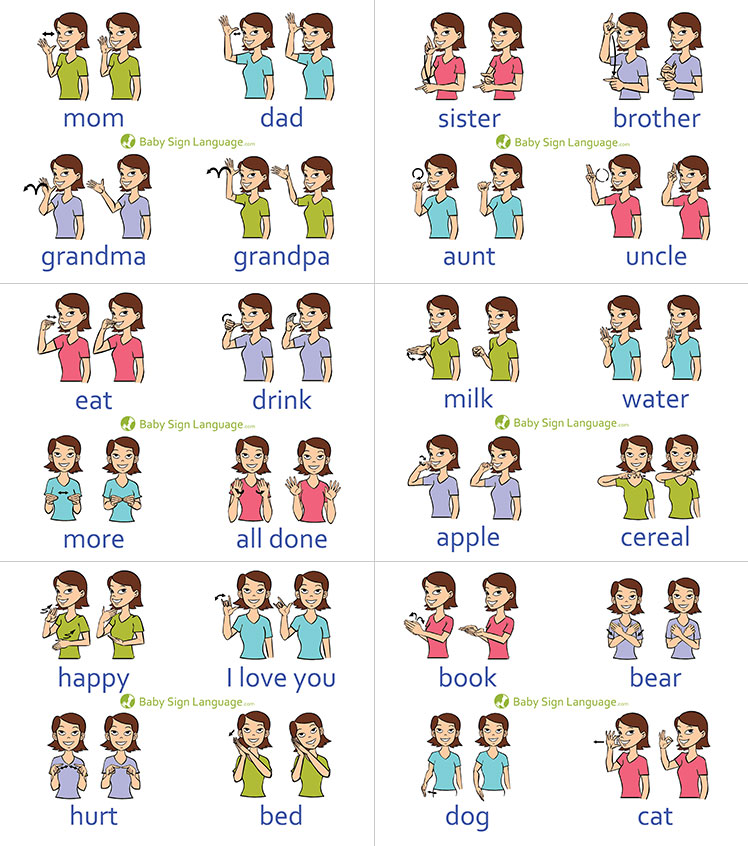 There are so many books and online resources available for those just starting out like
Baby Sign Language
&
Signing Baby
. Hopefully by giving Nolan a new way of communicating we have seen the last of his screeching alter-ego.
Have you used sign language to help your baby communicate? Share your tips below!
Hoping this works in Granolaville,